What Can You Expect With Orexia?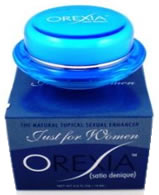 Rating:
Let's talk about why you need a sexual enhancement gel.
Most people agree that it's more difficult for women to reach an orgasm than men. Fortunately, today women can do something about it. This is why there's been an explosion of female stimulating gels on the market and that's where Orexia fits in.
Here's the good news. Orexia is an all natural stimulating cream which is one of the first things Moon Rocket looks at. We demand excellence from the sexual enhancers we review, and on the surface Orexia seems like it can deliver.
It's no secret that for a man, as blood flow increases to the penis, he forms an erection and develops increased sensitivity to touch. Well, as I'm sure you already know, the same thing happens for a woman. When blood flow is increased to the clitoris area, it becomes more sensitive and orgasms becomes much easier.
What's In Orexia
If you sincerely want an enhancement to help give more sexual pleasure and intense orgasms, then ingredients that stimulate blood flow to the clitoris will spell the difference between success and failure of a stimulating gel.
While Orexia does not contain L-Arginine in it's formula, it does contain one of the lesser known ingredients Yohimbe; although it's becoming more popular among some product manufacturers.
Yohimbe, from the bark of tree found in Africa and has been used to increase blood flow to the clitoris. Although the health safety of this ingredient is very controversial, it's doubtful Orexia uses quantities that are toxic.
Here is the small list of stimulation, mood and lubrication ingredients in Orexia:
Yohimbe
Panax Ginseng
Damiana
Muira Puama
Epimedeum
How Does Moon Rocket Rate Orexia?
We're dedicated to helping women(and men) discover high quality and effective solutions for sexual enhancement.
Orexia does offer some of what we look for in a stimulating gel. It does contain all natural ingredients which is "Crucial" for a product used on sensitive areas. It does have a stimulation ingredient in the formula. However, because stimulation and increased blood flow to the clitoris is what helps cause female orgasms, for the price Orexia is going to cost you, you would expect to seen more blood flow and stimulation ingredients like L-Arginine or Niacin as you find with other products.
There doesn't appear to be any cooling or warming ingredients like menthol and we read comments from several woman that talked about the odor caused by Orexia.
Overall we found Orexia to be a good product, the truth is we just expected more from a product at the $49.00 price level. Click here to buy Orexia now or review the top female stimulating gels by clicking below.
»
(4) Customer Testimonials - View & Leave Review For Orexia
Click Here To See Comparison of Top 3 Selling Female Stimulating Gels