Is Vigorelle The Answer To Great Orgasms?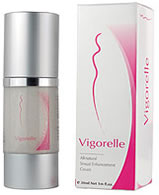 Rating:
Without a doubt more and more woman (and men) are looking for ways to have more pleasure and more intense orgasms in the bedroom.
What you find is there has been a huge explosion of arousal gels in the market, but the question is do any of them work.
One of the products that's trying to get your business is the arousal gel called Vigorelle.
At Moon Rocket, in keeping with our total commitment to uncovering female stimulating gels that actually produce earthshaking results, we've looked into Vigorelle Gel and here is what we've found.
Take A Look Inside Vigorelle
Vigorelle, which according to its Website — claims it's "Guaranteed" to give women greater pleasure and long term "Eagerness" for sex.
If you pull back the covers and examine what Vigorelle has in its list of ingredients, what you find are the all natural ingredients seem a little encouraging.
L-aginine
Wild Yam
Damiana Leaf
Ginkgo Biloba
Suma Root
Peppermint leaf
Vitamin A, C & E
As you can see, the first ingredient in the list is L-arginine. This is always a good indication if the stimulating gel will actually "Stimulate" or is just an overpriced lubricant.
Unfortuatly, beyond the L-arginine, there doesn't seem to be any other blood flow stimulants. There's more than enough ingredients to help with dryness and vaginal lubrication which is important with safer water based gels like Vigorelle. However, we would have preferred to see some additional stimulating ingredients like niacin or primrose.
Vigorelle's Unique Feature
When you compare Vigorelle to other stimulating gels, they include ingredients like Wild Yam and Suma root which are roots that may help with hormone and endocrine imbalances. This makes it seem like Vigorelle is aiming to treat women for some type of hormone and sexual dysfunction.
What I'm leading up to is that it may have made more sense for Vigorelle to spend more time and money investing things that help with the playfulness of sex, than a sexual illness.
How Do Customers Respond
One thing is for sure, there was limited feedback available which is not uncommon for such a personal product. However, the feedback we did read was not totally supportive.
The important comment we read was how the product smelled and tasted. While some didn't seem to mind, the product was not odor free. Because we look for odorless and tasteless gels and creams, we found this to be a downside of the product because not all women or men would find that enjoyable.
Overall, most women indicated Vigorelle had some effect, however not all were satisfied with it. If you would like to give Vigorelle a try and you spend $109.00 you get to choose a free gift with your order. Click here to buy Vigorelle. or click below to see our a side by side comparison of the top 3 stimulating gels.
»
(6) Customer Testimonials - View & Leave Review For Vigorelle Arousal Gel
Click Here To See Comparison of Top 3 Selling Female Stimulating Gels