Should You Be Interested In Zestra?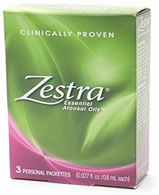 Rating:
Recent research shows that female stimulating gels are becoming a popular way to intensify sexual pleasure!
Zestra, an oil based stimulating solution claims it can help woman achieve better sex.
In short, this review will help you sift through all the TV, Internet and Radio advertising and get to bottom line question…."Will Zestra Work For You?"
At Moon Rocket, our dedication to finding the best female enhancement products has helped us weed out many products that are nothing more than expensive lubrications.
You'll be interested to know that our background is in product formulation, so the first two questions we ask about any product are "What's in it?" and "How much of any particular ingredient did they use?"
Don't be fooled by product ingredient labels that read like a grocery list. Many companies, especially companies that mass market, use as little of an expensive ingredient as possible — Just so they can LEGALLY make the claim it's included in the product.
What you'll find is that you can try two different products with the exact same ingredients and because of the herb quality, quantity and extraction process — the results will be as different as night and day.
Whats Inside Zestra?
Zestra advertises itself as good arousal oil for women and is made from all natural ingredients. According to the Website, when you apply Zestra to the clitoris area, the extract will begin to work within five minutes.
You'll discover there's quite a bit of feedback for this product. Most women seem to agree they experience some form of what the product claims. There are some negative comments regarding how the product smells. However, this is not that uncommon for many female arousal products and keep in mind, some women far are more sensitive to it than others.
One of the first ingredients we look for in a product is L-Arginine.
Unfortunately, Zestra does not include L-Arginine as the main stimulating ingredient and we wonder why. According to most people qualified to speak on the matter, no other ingredient increases blood flow to the clitoris like L-Arginine. Since increased blood flow is in fact what increases sensitivity to the clitoris, you would think it would be added regardless of the expense.
Instead, Zestra includes coleus forskholii as the main stimulating ingredient . But the good news is they also include evening primrose and Niacin as added help with blood flow to the clitoris area.
How does Zestra Rate
You will be glad to know that while Zestra at $49.95 is one of the more expensive products that other lesser quality products seem to model their prices after — Because of its use of coleus forskholii with evening primrose and niacin in its natural formula, we do list Zestra as one of our the top 3 female stimulating gels.
When you read the feedback, Zestra does seem to produce some type of results for many woman and they include a free pouch with three extra packets when you buy Zestra directly from their Website.
»
(7) Customer Testimonials - View & Leave Review For Zestra
Click Here To See Comparison of Top 3 Selling Female Stimulating Gels